What a wonderful day I had today.
.
My sister drove down to get me and then we went back up to Scottsdale to where the meeting is held. We went to a Starbucks for a scone and coffee. Her treat she insisted. She said she had been given a gift card by a client. Goodness those drinks are delightful. Not something I ever do, except twice now with her.
We had a fabric/pattern exchange. It was amazing the things that came home with me. One woman thought of me and purchased several very old sewing machine feet including a ruffle foot and a binding foot. in an original box at a thrift store for .50! after checking the height they will get passed onto another woman who gave me her number. I am sure she will be thrilled. I came home with batting some fabric and a pattern perfect for the master bedroom window valence. Just exactly what I drew out when designing them. So cool how good it is when the angles are sent to look out for us.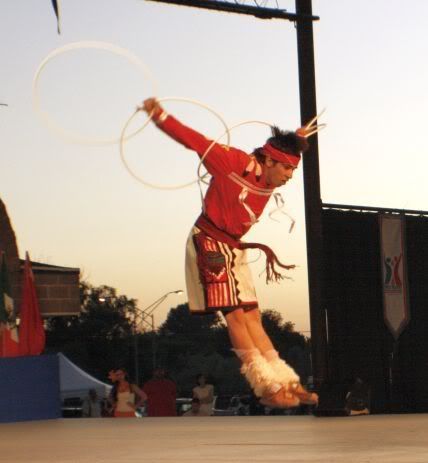 Across the way there was an Indian (Navajo) market of artist.
Drums and a hoop dancer. Much like this young man, stock image.It was so wonderful to stand, sun on my back amerced into the beat of the drum. A time of still worship. My sister standing by my side. We are becoming friends.
Afterward we took the left over fabrics and patterns down to the Hospice thrift store. Of course we had to go into play. Oh my! I saw this beaded top and loved it, then found the pants.
The pants are like new 80% silk, 25% off of $3.!
Fit and were high waist just perfect for the top.
That smile is after my sister was looking to see the maker tags.
It is a boutique item'
Under the makers tag she found the yellow price tag. It said $412. It was 25% off of $5.!!!!!!!
The beading is all the way around the top, hand painted and embroidered.
We three stood there in laughter.
I think this is just about the best deal I have ever made on a sale.
Note the color of the polish. I just painted them last night! I never have worn this color, it was a gift for my birthday. It is the very same color as the outfit!
Found three pair of shoes thrilled at $10 a pair they were all marked down to $2. These are NEW! someone donated them, the hand bag was only $5 it is like NEW
Matches the outfit. Can you believe it! I was just telling Poppa yesterday that I would like to take better care and dress better. Even did the manicure/pedicure for myself in prayerful self respect. A dear friend of mine had written about the condition of our feet showing character. Got me to thinking that taking efforts and time to care for myself is not a treat it is a responsibility.
Came home with several other things as well.
A like new Cuisinart ice cream maker for $7.50. They sell for $50. new. I was watching a show called 'Good Eats' studying how to make home made ice cream, not but two weeks ago.
We had a real nice time together.
After a bit of a rest the kids and I watched two movies together. I did fall asleep during the second on 'brother bear'. They are asleep now. So should I be getting there as well.


It was a beautiful day of 'play', good company and interest.